Berlin - Security Studies & International Affairs
Home ›
Courses ›
Berlin - Security Studies & International Affairs
Read more about this program on the school's website
Program Description
Earn U.S. Credits Virtually This Summer
Get ahead! Earn extra credit through a globally recognized U.S. education program this summer on our Virtual World DiscoverIES program.
Just picture it: one day you're exploring business ethics with a professor in London and the next it's Japanese pop culture from Tokyo, studying alongside classmates from the U.S.'s highest-ranked colleges and universities. This is what it's like to take a course or two (of your choosing!) from IES Abroad's most popular centers around the world this summer.
Learn more about how you can discover the world through IES Abroad.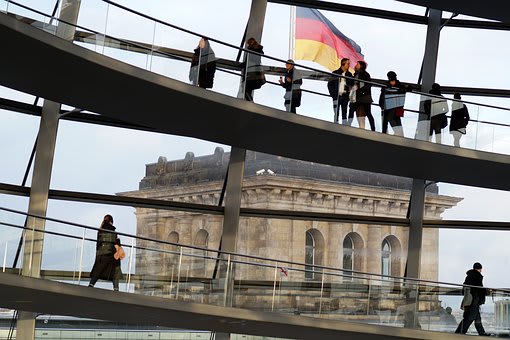 Why Berlin?
The city of Berlin has had a tumultuous geopolitical history: its destruction in World War II, its hostile division during the Cold War, the fall of the Berlin Wall, the reunification of Germany, and the country's growth as a major cultural, economic, and political force in the 21st century. This history and its present importance make Berlin the ideal place to study Security and International Relations.
What You'll Study
Your coursework takes advantage of Berlin's position as Germany's capital, and the country's role as a leading state in the European Union. The English-taught courses explore the history and challenges of European security policy, espionage, and strategic intelligence during the Cold War and beyond, the roots of global terrorism, and the challenges of migration. You will additionally be able to attend courses on EU politics, transnational film, marketing, and more.
Berlin will be your classroom. Imagine studying the European and global challenges that Germany faces then walk among the remnants of the Berlin Wall—a stark reminder of the city's turbulent past. Or wander through the vibrant Turkish Market while learning about migration in Germany. As part of this program, you will also take a five day trip to Vienna (Fall semester) or to Warsaw (Spring semester) where you will explore institutions and sites that are relevant to your coursework.
Daily Life
We want you to feel at home in Berlin, so we do everything we can to help you integrate into life in the city. From housing to cultural events, our job is to make sure you have the most authentic study abroad experience possible.
Academics
Our mission is simple: to provide you with the best study abroad program possible—which includes the highest quality academic and cultural experiences. We offer a variety of courses that explore topics related to security studies and international affairs through an in-depth and hands-on approach. Our experienced faculty facilitate a unique academic experience and provide you with new perspectives both in and out of class.
You take 15–19 credits per semester. All courses are worth 3 credits, excluding the 4-credit German Language courses. All courses are taught in English, excluding language courses, which are taught in German.
Craft a unique academic experience by selecting from the following program components:
Security Studies & International Affairs Program courses (optional, 3 credits)
Courses from our Metropolitan & Urban Studies Program (optional, 3 credits)
IES Abroad German language course (optional, 4 credits)
Courses
This is a list of planned course offerings. After you are accepted, you will see a list of final course offerings in your MyIESabroad account.
If you have sound German language skills and test into GR401 or higher, you will also have the option to take a German-taught course offered in our Language & Area Studies Program as part of your course load. Students who test into GR351 will be considered for this option on a case-by-case basis.
Evolution of the Modern City: Urban Development and Architecture
Bio-Politics and Migration in the 21st Century
Urban Design and Sustainability
German Popular Culture
Urban Identities in Contemporary Europe
Urban Design and Sustainability
Transatlantic Cinema: Germany and the U.S.
Bio-Politics and Migration in the 21st Century
German Language in Context: Novice Abroad
German Language in Context: Emerging Independent Abroad
German Language in Context: Emerging Competent Abroad
German Language in Context: Competent Abroad
Let's Talk Business (Wirtschaftsdeutsch)
The Politics of Gender: Berlin Past and Present
Espionage and Diplomacy in International Politics
Security in Europe: Actors and Challenges
The Politics of Gender: Berlin Past and Present
Germany in the Global Economy
Espionage and Diplomacy in International Politics
Europe and the Middle East
Global Marketing for Startups
Security in Europe: Actors and Challenges
Germany in the Global Economy
Europe and the Middle East
The Entrepreneurial City
German Popular Culture
Urban Identities in Contemporary Europe
The Politics of Gender: Berlin Past and Present
The Restructuring of Urban Space
Evolution of the Modern City: Urban Development and Architecture
Urban Design and Sustainability
The Entrepreneurial City
The Restructuring of Urban Space
Field Trips & Events
Even though your adventure starts in Berlin, our field trips take you beyond the city to discover the culture and traditions of your host country. Field trips are offered at an extra cost. Here are a few possible destinations:
Hamburg
2 days | fall & spring
Explore Germany's second-largest city on this weekend trip to Hamburg, an economic and cultural hub with Europe's third-largest harbor, stunning modern architecture, and trendy shopping areas.
Dessau
1 day | fall & spring
The original location of the Bauhaus, a famed school of design founded by Walter Gropius in 1919, Dessau hosts some of the most iconic buildings of this era of architectural design, as well as the brand-new Bauhaus Museum. Join us on this day trip to Dessau to celebrate the Bauhaus Centenary.
Potsdam
1 day | fall & spring
Tour Potsdam, the former residence of Prussian kings, and its stunningly beautiful castles, parks, gardens, and scenic waterfront views.
IES Abroad field trip destinations, activities, and lengths of stay may vary according to term and availability.
Course-Related Trips
IES Abroad Berlin organizes course-related trips that complement IES Abroad courses, and contribute to your general knowledge of German culture and society. Past activities have included:
Lectures at governmental institutions, political organizations, and think tanks
Tours of a Cold War-era prison and related historical sites
Tours of Berlin's markets and multicultural neighborhoods
Visits to start-up hubs within Berlin
Required Program-Related Trip
This program includes an exciting course-related trip to either Vienna or Warsaw where you learn firsthand about historical and contemporary challenges cities are facing. The trip is a required, integral academic component of this program. The cost is included in the program fee.
Vienna, Austria
5 days | Fall
This academic trip will provide you with a new perspective on the Austrian capital. In addition to exploring its world-famous historical sites and museums, you will have the opportunity to discuss urban governance topics with local scholars and explore the city's rich architectural heritage in relation to urban development.
Warsaw, Poland
5 days | Spring
You will explore European history and urban development in a comparative perspective through this academic trip to Poland's vibrant capital, viewing its distinct historical and cultural heritage through architectural tours, museum visits, and encounters with the local academic community
Daily Life
Part of making you feel at home in Berlin is doing our best to help you feel safe and cared for. Whether it's the orientation program that prepares you for what's ahead, your housing that is well-located and comfortable, or the field trips and walking tours that take you to places off the beaten path—we're all about our student services.
Orientation
The program begins with an orientation that introduces you to the IES Abroad Berlin staff, your fellow students, and the city of Berlin. Topics such as academics, housing, transportation, and health and safety are covered.
Our Comprehensive Orientation & Re-Entry Experience (CORE™) begins right when you arrive and continues through the semester with activities focusing on academic and cultural adjustment. Detailed information about housing, public transportation, culture, health and safety, and other important topics are also covered.
Following orientation, you divide your time between a series of lectures, tours, and trips related to the history, art, and culture of Berlin.
Housing
We want to make sure that your greatest challenge is deciding which landmarks to see first or discovering the best café-- not finding a place to live where you feel comfortable. We do our best to locate housing that is centrally located for you to reach the IES Berlin Center as well as public transport. Please note that meals are not included in the program cost. Students usually prepare their own meals at home or dine in affordable student cafeterias or restaurants.
Living with Locals - We offer you the unique experience of living with local residents throughout the city. Hosts may be single adults, single parents, or families. Most housing is in apartments. You will live in a single room or with another IES Abroad student.
Apartments - We offer single rooms or same-gender shared rooms in mixed-gender student apartments. Live with other IES Abroad students in apartments with fully equipped kitchens.
Extracurricular Activities & Cultural Events
DiscoverIES
Redefine the way you live and learn in Berlin through our cultural events, which may include visits to:
Concert halls and opera houses
German history museums
Jewish Museum
German Parliament
Cost
Consider these prices as a starting point. We encourage you to contact your study abroad office to determine the actual cost to you when factoring in financial aid, scholarships, your home school policies, and other factors.
Spring 2020
| | | | | |
| --- | --- | --- | --- | --- |
| Term | Tuition | Housing | Insurance | Total |
| Spring 2020 | $15,200 | $2,920 | $230 | $18,350 |
Our Center
The IES Abroad Berlin Center is located in Mitte, the historical center of Berlin with its vibrant cafés, restaurants, and galleries. It is within short walking distance from Humboldt University, the world-famous Museum Island, the Brandenburg Gate, and the governmental district.
Features at the Center include:
Classrooms, student lounges, and study spaces
Small library
Outdoor terrace
WiFi and printer access
Last updated May 2020
About the School
Everything we do is about the IES Abroad student. Our profoundly passionate team of study abroad professionals believes in creating once-in-a-lifetime educational adventures that transcend expectation ... Read More
Everything we do is about the IES Abroad student. Our profoundly passionate team of study abroad professionals believes in creating once-in-a-lifetime educational adventures that transcend expectations. Our goal is to rock the world of some 6,000 study abroad students every year.
Read less
Chicago ,
Amsterdam ,
Arles ,
Auckland ,
Barcelona ,
Beijing ,
Berlin ,
Buenos Aires ,
Cape Town ,
Christchurch ,
Dublin ,
Freiburg ,
Granada ,
London ,
Madrid ,
Milan ,
Nagoya ,
Nantes ,
New York ,
Nice ,
Paris ,
Oxford ,
Quito ,
Rabat ,
Rome ,
Salamanca ,
Santiago ,
Shanghai ,
Siena ,
Sydney ,
Tokyo ,
Puerto Ayora ,
Vienna ,
Hong Kong ,
Puerto Baquerizo Moreno ,
Cambridge
+ 35 More
Less