Read more about this program on the school's website
Program Description
Earn U.S. Credits Virtually This Summer
Get ahead! Earn extra credit through a globally recognized U.S. education program this summer on our Virtual World DiscoverIES program.
Just picture it: one day you're exploring business ethics with a professor in London and the next it's Japanese pop culture from Tokyo, studying alongside classmates from the U.S.'s highest-ranked colleges and universities. This is what it's like to take a course or two (of your choosing!) from IES Abroad's most popular centers around the world this summer.
Learn more about how you can discover the world through IES Abroad.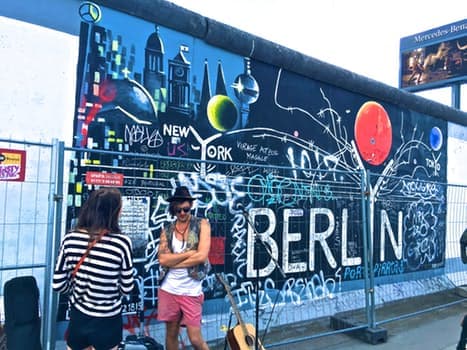 Why Berlin?
The minute you step off the plane in Berlin, you'll feel its energy. It's a place of new ideas, where sustainable technology and modern design are a way of life, and art galleries can be found on nearly every corner. But don't forget, this dynamic city is also a center of modern European history—it has no equal for leaving its imprint on the political, social, and cultural history of the 20th century. We invite you to study in Berlin and to explore one of the world's most vibrant cities.
What You'll Study
Specially designed to improve your German language skills, this program draws upon Berlin's rich culture and traditions to connect your coursework with the living history of the city. IES Abroad courses are taught in German by local faculty, and a variety of academic options are available at local universities.
You can also add international work experience to your résumé while earning credit by taking an academic internship seminar during the semester and staying on after the semester to work at your internship placement.
Berlin will be your classroom. Imagine learning about German politics and policymaking in class and then taking a quick walk to visit the German Parliament. Or discussing multiculturalism in Berlin and then touring one of the city's bustling Turkish neighborhoods. Wherever possible, our courses take advantage of the city's many historical, artistic, and cultural sites, and several courses include course-related trips.
To enrich your academic experience, you can participate in field trips to destinations like Dresden & Elbe Valley, Hamburg, Leipzig, and Potsdam.
Daily Life
We want you to feel at home in Berlin, so we do everything we can to help you integrate into life in the city. From housing to cultural events, our job is to make sure you have the most authentic study abroad experience possible.
Academics
Our mission is simple: to provide you with the best study abroad program possible—which includes the highest quality academic and cultural experiences. We offer a variety of courses that explore German History, Culture, Art, and Society through an in-depth and hands-on approach. Our experienced faculty, as well as course options at the prestigious Humboldt Universität zu Berlin, will facilitate a unique academic experience and provide you with new perspectives both in and out of class.
You take 15–19 credits per semester— all IES Abroad courses are worth 3 credits, excluding the required 4-credit German Language courses. All courses in this program are taught in German. You can combine your IES courses with courses at the Humboldt Universität zu Berlin (HU).*Credits for HU courses will vary. In addition, you have the option to participate in an internship after the end of your IES courses.* For internship students, the German Social Market Economy course is required.
These are your options in the program:
Language & Area Studies Program courses (3 credits)
IES Abroad German language course (required, 4 credits)
German-taught courses at a local university (credits vary)
IES Abroad Internship (includes internship and IES course on The German Model of Social Market Economy, 4 credits)
*Please note: Students who choose to take courses at a local university will need to remain in Berlin for the duration of the standard German university semester, which runs through mid-to-late-February (Fall semester) and mid-to-late-July (Spring semester).
Students participating in a post-program internship must also remain in Berlin during this additional period of time, respective to the semester of participation.
Enrollment in German-taught partner university courses requires a German language level of B2.1 (Common European Reference Framework CERF), equivalent to GR401.
Local university course ECTS credits are converted to IES Abroad credits using a 2:1 conversion scale.
Courses
Below is a list of planned course offerings. After you are accepted, you will see a list of final course offerings in your MyIESabroad account.
On request and with permission from your home institution, you may take up to two English-taught courses from our Metropolitan & Urban Studies or Security Studies & International Affairs programs; or English-taught courses at a local university as part of your course-load.
History of Photography
Art and Society: Berlin Since the 1930s
Bio-Politics and Migration in the 21st Century
Multicultural Berlin
German Popular Culture
Theater in Berlin
Contemporary German Film
Bio-Politics and Migration in the 21st Century
German Language in Context: Emerging Independent Abroad
German Language In Context: Emerging Competent Abroad
Let's Talk Business (Wirtschaftsdeutsch)
The Politics of Gender: Berlin Past and Present
Contemporary German Film
The German Model of Social Market Economy
Berlin Memory Politics
The Politics of Gender: Berlin Past and Present
Let's Talk Business (Wirtschaftsdeutsch)
Germany and European Unification
Modern German Literature
The German Model of Social Market Economy
Germany and European Unification
German Popular Culture
The Politics of Gender: Berlin Past and Present
Berlin Memory Politics
Partner Institution(s)
Humboldt-Universität zu Berlin (HU)
With a size of approximately 35,000 students, Humboldt University offers a wide variety of courses in the Humanities, Social Sciences, and Natural Sciences. The university has 9 departments (Fakultäten) and offers 189-degree programs, 57 of which are undergraduate programs. Founded in 1810, the university established the concept of the modern university that unites teaching and research. HU's main campus is located within walking distance of the IES Berlin Center. Most science courses, however, are held at the university's second campus in the district of Adlershof, about 50 minutes commute by train from the Center.
If you take courses at Humboldt University, you will be directly enrolled as a student and have full access to all university facilities. This may also enable you to take courses at one of the various other local universities— course opportunities at other local universities can be explored on a case-by-case basis with the Academics Team in Berlin.
*Please note: Local universities' course directories are typically updated end-of August for the Fall semester, and end-of February for the Spring— course offerings vary from semester to semester, and some course options may not be available for non-degree-seeking students.
Volunteer Abroad
When you volunteer in Berlin, you have the chance to make a difference in the local community while meeting new people and gaining a new perspective on the world. If you are passionate about volunteering abroad, just let the on-site staff know at the beginning of your term. Past volunteer opportunities in Berlin include:
Not-for-profit organizations
Schools
Social institutions
Internships
Interning while you study in Berlin gives you a rewarding job experience with a wealth of long-lasting career benefits. You will:
Gain a better understanding of the real-life, everyday culture of your host country
Add global work experience and skills to your résumé or your application for graduate school
Improve your confidence
All of our internships are supervised and earn IES Abroad credit. Interns participate in a course on the social market economy that includes a special seminar linked to the internship, for additional credit. In both fall and spring semesters, internships begin after the IES Abroad courses end. Spring internships end in August, and fall internships end in February. There is no extra cost for this optional, post-program internship.
Personalized Placements
Once you indicate your interest in an internship, we work with you to find the ideal internship placement that fulfills your academic and career goals. We've placed students with a wide variety of organizations and businesses. If we don't currently work with a business or organization in your field of interest, we will search for a placement that's right for you.
Placement Examples
Past students have interned in the following fields. Don't see your field listed here? Just talk to your IES Abroad Program Advisor—new internships are always being added.
Architecture
Business
Computer Science
Education
Engineering
Government
Medicine
Mass Media
Social Organizations
In addition, internships may be available in Architecture, Computer Science, Engineering, Mass Media, and Medicine.
Field Trips & Events
Even though your adventure starts in Berlin, our field trips take you beyond the city to discover the culture and traditions of your host country. Field trips are offered at an extra cost. Here are a few possible destinations:
Dresden & Elbe Valley
3 days | fall & spring
Visit Dresden, the 'Florence of the North', and view its rich cultural and architectural heritage; and the scenic views of the Elbe valley, its natural river banks, and slopes.
Hamburg
2 days | fall & spring
Explore Germany's second-largest city on this weekend trip to Hamburg, an economic and cultural hub with Europe's third-largest harbor, stunning modern architecture, and trendy shopping areas.
Dessau
1 day | fall & spring
The original location of the Bauhaus, a famed school of design founded by Walter Gropius in 1919, Dessau hosts some of the most iconic buildings of this era of architectural design, as well as the brand-new Bauhaus Museum. Join us on this day trip to Dessau to celebrate the Bauhaus Centenary.
Potsdam
1 day | fall & spring
Tour Potsdam, the former residence of Prussian kings, and its stunningly beautiful castles, parks, gardens, and scenic waterfront views.
IES Abroad field trip destinations, activities, and lengths of stay may vary according to term and availability.
Course-Related Trips
IES Abroad Berlin organizes course-related trips that complement IES Abroad courses, and contribute to your general knowledge of German culture and society. Past activities have included:
Architectural tours of various city districts
Visits to museums and art galleries
Tours of Berlin's markets and multicultural neighborhoods
Attendance at theater performances
Daily Life
Part of making you feel at home in Berlin is doing our best to help you feel safe and cared for. Whether it's the orientation program that prepares you for what's ahead, your housing that is well-located and comfortable, or the field trips and walking tours that take you to places off the beaten path—we're all about our student services.
Orientation
The program begins with an orientation that introduces you to the IES Abroad Berlin staff, your fellow students, and the city of Berlin.
Our Comprehensive Orientation & Re-Entry Experience (CORE™) begins right when you arrive and continues through the semester with activities focusing on academic and cultural adjustment. Detailed information about housing, public transportation, culture, health and safety, and other important topics are also covered.
Following orientation, you divide your time between intensive German language instruction and a series of lectures, tours, and trips related to the history, art, and culture of Berlin.
Housing
We want to make sure that your greatest challenge is deciding which landmarks to see first or discovering the best café—not finding a place to live where you feel comfortable. We do our best to locate housing that is reflective of how the local students are living. Our goal is that when you leave Berlin, it will feel like home.
IES Abroad Berlin housing gives you the unique experience of living with local residents throughout the city. Hosts may be single adults, single parents or families. Most housing is in apartments.
Students typically prepare their own meals in their housing or dine in Mensas (affordable student cafeterias) or restaurants. Meals are not included in the program cost.
Extracurricular Activities & Cultural Events
DiscoverIES
Redefine the way you live and learn in Berlin through our cultural events, which may include visits to:
Concert halls and opera houses
German history museum
Jewish Museum
German Parliament
Cost
Consider these prices as a starting point. We encourage you to contact your study abroad office to determine the actual cost to you when factoring in financial aid, scholarships, your home school policies, and other factors.
Spring 2020
| | | | | |
| --- | --- | --- | --- | --- |
| Term | Tuition | Housing | Insurance | Total |
| Spring 2020 | $15,200 | $2,920 | $230 | $18,350 |
Academic year
| | | | | |
| --- | --- | --- | --- | --- |
| Term | Tuition | Housing | Insurance | Total |
| Academic Year | $26,975 | $5,840 | $550 | $33,365 |
Scholarships & Aid
Program-Specific Scholarships
Robert McNeill Need-Based International Business Scholarship
Up to $3,000; awarded to 2 students each year.
This scholarship is named in honor of Robert McNeill, a member of the IES Abroad Board of Directors for 25 years (6 years as Chairman). Open to students who have an interest in international business. Majors might include management, marketing, economics, finance, international relations, and social and behavioral sciences.
Dr. William Louis Gaines Need-Based History or International Relations Scholarship
Up to $1,875; awarded to 4-6 students each year.
This scholarship is named in honor of Dr. William Louis Gaines, President of IES Abroad from 1974-1992. Dr. Gaines was dedicated to strengthening IES Abroad's academic framework, broadening the scope of IES Abroad locations, and securing the financial foundation of the organization.
Open to students majoring in History or International Relations.
Kathleen Kervin Diamond Endowed Scholarship
Up to $2,000 each; awarded to 4-6 students each year.
Kathleen Diamond is a consultant, entrepreneur, and business leader in the language services industry. In 1979, she founded Language Learning Enterprises, Inc. (LLE®), a full-service language company based in Washington, D.C. She is recognized as an early pioneer in Telephone Interpreting, launching LLE-LINK in the early 1990s. Over the next 20 years, under her leadership, the company grew into a dynamic, multimillion-dollar corporation, serving a wide range of clients, in both the private and public sectors, across the United States, and worldwide. In 2009, Ms.
Study Abroad Scholarship for Future Engineers
Up to $10,000; awarded to 6 students each year.
The Study Abroad Scholarship for Future Engineers was established by an anonymous donor to encourage more engineering students to have the enriching, life-changing experience of study abroad.
Our Center
The IES Abroad Berlin Center is located in Mitte, the historical center of Berlin with its vibrant cafés, restaurants, and galleries. It is within short walking distance from Humboldt University, the world-famous Museum Island, the Brandenburg Gate, and the governmental district.
Features at the Center include:
Classrooms, student lounges, and study spaces
Small library
Outdoor terrace
WiFi and printer access
Last updated May 2020
About the School
Everything we do is about the IES Abroad student. Our profoundly passionate team of study abroad professionals believes in creating once-in-a-lifetime educational adventures that transcend expectation ... Read More
Everything we do is about the IES Abroad student. Our profoundly passionate team of study abroad professionals believes in creating once-in-a-lifetime educational adventures that transcend expectations. Our goal is to rock the world of some 6,000 study abroad students every year.
Read less
Chicago ,
Amsterdam ,
Arles ,
Auckland ,
Barcelona ,
Beijing ,
Berlin ,
Buenos Aires ,
Cape Town ,
Christchurch ,
Dublin ,
Freiburg ,
Granada ,
London ,
Madrid ,
Milan ,
Nagoya ,
Nantes ,
New York ,
Nice ,
Paris ,
Oxford ,
Quito ,
Rabat ,
Rome ,
Salamanca ,
Santiago ,
Shanghai ,
Siena ,
Sydney ,
Tokyo ,
Puerto Ayora ,
Vienna ,
Hong Kong ,
Puerto Baquerizo Moreno ,
Cambridge
+ 35 More
Less