Associate of Science in Television Production
Home ›
Associate of Science in Television Production
Program Description
We help students develop the unique skills needed for successful careers in film and television. You will work with the latest equipment and with professors who are also industry professionals.
Why choose Mt. SAC?
Industry-connected faculty: All of our professors are working industry professionals. Each semester other industry professionals are invited as guest lecturers to provide their behind-the-scenes look at the production field.
In-depth learning: The classes combine lectures with hands-on training using the same equipment and software found in major studios and television production companies. Students will learn the three basic types of production: single-camera film style, multi-camera TV studio, multi-camera sports. In addition, students explore every stage of production and post-production, from screenwriting to editing and visual effects. Specialty courses in reality show production, audio production, and film history are also offered.
Work experience: Our students intern at the top TV stations in Southern California along with major television networks and stations and film production and post-production companies. Industry professionals often call us looking for interns and entry-level job candidates based on their past great experiences with our students.
The Associate in Science degree in Television Production is designed to prepare students for entry-level jobs in the Television industry in a variety of areas including narrative, remote and studio production, writing, preproduction, editing, and finance.
This degree requires the completion of General Education coursework plus the following:
Program Learning Outcomes
Upon successful completion of this program, a student will be able to:
Feel that they have an increased possession of the skills required for entry-level work in the entertainment industry.
Function in three types of production: Narrative (film-style), TV Studio, and live Remote Multicamera production in any role.
Use communication, artistic, and technical skills to collaboratively create programs as part of a team in any role, from writer to editor.
Use Avid Media Composer to the level necessary for an editing internship.
Present an ePortfolio containing video and written work to prospective employers, universities, and scholarship committees.
Apply aesthetic and technical skills in telling a story visually.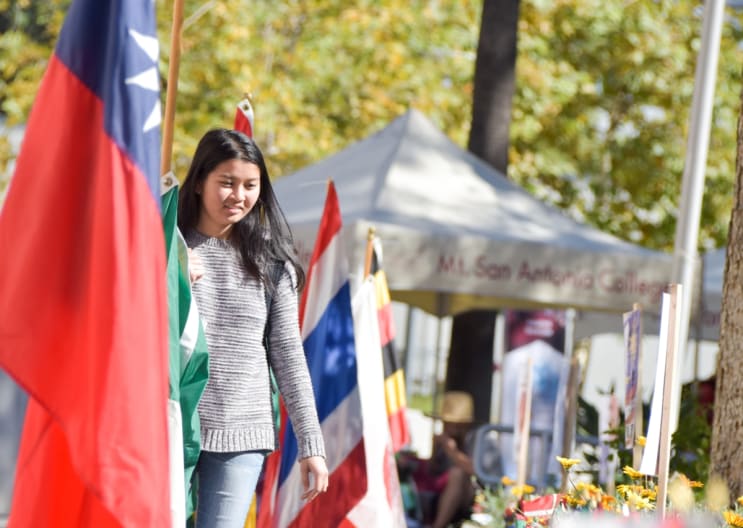 Career Services
Career Services provides employment assistance and opportunities for Mt. SAC students and alumni. To accomplish this, we partner directly with local employers and help them find qualified candidates. We also offer a variety of services to assist Mt. SAC students and alumni including but not limited to;
Explore careers:
Check out internet resources to research potential careers, labor market information and more!
Explore our career resources library and computer lab.
Acquire employment skills:
Attend workshops on writing resumes and cover letters, interviewing skills, mock interviews, career-specific topics and more.
Get a one-on-one resume, cover letter, interviewing and general job search assistance with one of our career specialists.
Gain experience:
Participate in the Disney College Program.
Find internships.
And get a job!
Search hundreds of job postings updated daily via Mountie CareerSource.
Schedule an on-campus interview with employers.
Attend our career fairs.
Admissions
Any person who is 18 years old and not currently enrolled in High School or any person possessing a high school diploma or its equivalent is eligible for admission to Mt. San Antonio College. Admission to Mt. San Antonio College includes the filing of an application for admission by the student and the filing of transcripts from high school or college(s) the student previously attended. It is the student's responsibility to request official transcripts from the last high school attended and any college(s) attended. Transcripts will be reviewed to determine eligibility for courses at Mt. SAC.
Last updated Nov 2020
About the School
At Mt. SAC, students can get the full college experience without the full college debt. We give our students the support and excellent education they need to succeed in new careers, gain admission int ... Read More
At Mt. SAC, students can get the full college experience without the full college debt. We give our students the support and excellent education they need to succeed in new careers, gain admission into top-tier universities, or advance in their current line of work. We have more than 260 degree and certificate programs, 25 support programs, and more than 50 student clubs and athletic programs.
Read less