Associate of Science in Information Technology
Home ›
Associate of Science in Information Technology
Program Description
Associate of Science in Information Technology
This is a two years degree program that offers a sequence of required studies in General Education , Core IT courses , and Elective courses . Graduate of this program may find career opportunities in a variety of fields such as IT support Systems, Web Designing, IT Administration, System Analysis and Programing, Technical Sales, Data Base Administration and Network Administration.
The program has two major goals:
It prepares students for careers in government and non-governmental organizations, business corporations, public and private sectors.
It prepares students for upper level Baccalaureate studies at institutions of higher education in the UAE and abroad where they can complete the remaining two years of studies leading to a Bachelor Degree in IT, IS or in related areas .(ECMIT students generally succeed in securing 75% to 100% credit transfers earned at ECMIT to Baccalaureate level institutions) .
The program has a number of learning outcomes that prepare students to face the complexities of today's technology and business world. After completing this program:
Students will be:
Effective and proficient communicators.
Knowledgeable in concepts and applications of Information Technology and quantitative skills
Able to use logical, analytical and critical thinking skills for problem solving.
Understand and utilize culture and ethical principles.
Acquire competencies for personal and professional development.
Understand and relate technology practices in global environment.
ASIT Curriculum Structure
General Educations Courses (25 credit Hours Required)
Core Information Technology Courses (30 credits Hours Required)
The IT courses have been carefully designed to give students both a holistic view of IT and through knowledge of the functional IT areas.
Information Technology electives (6 Credits Hours Required)
Any Two courses from the following electives are required.
Students must meet the following minimal criteria for regular admission:
UAE General Secondary School Certificate with an average of 60% or higher or equivalent qualification from other countries.
A minimum TOEFL score of 500 or IELTS band 5.0 or any equivalent standardized English Proficiency test approved by MOE.
A completed application for admission to ECMIT.
Fees: Total Program Tuition Fees 54,290/- (61 credits @AED890/ per credit )
Installments scheme is available.
Application and Admission fees AED 2250 - Registration fees 500.0 per semester.
TOEFL Test Fee AED 600
For Details Please contact the Admission Office at 04-2675016, or visit our website.
Why should you study ASIT at ECMIT?
An American style 124 credit curriculum reviewed and approved by MOE and leading international experts.
Programs accredited by the Ministry Education in UAE.
Morning / Evening / Weekend classes available.
Qualified & Experienced Faculty.
Affordable Tuition Fees payable in installments.
Student Visa Assistance.
Modern Facilities.
Why did I choose to study at ECMIT?
"I wanted to join a college where I could achieve my full potential. ECMIT was highly recommended by my cousins for its small class size and excellent faculty. As I don't drive, I love that I could use the Metro or RTA bus to reach the college easily, even from Sharjah or other emirates. But the most important factor for me are the excellent curriculum and the affordable fees."
Manal – Sharjah
"After completing my Associate of Science in IT from ECMIT The University of California accepted all 20 courses for transfers saving me 2 years of study and money. The American style ASIT program helped my transition into the Bachelor program without problems."
Abdel Rahman , ASIT
Last updated Nov 2017
About the School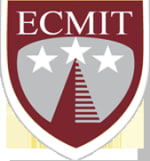 The Emirates College for Management & Information Technology (ECMIT) is a 4 year institution of higher education which was originally established and licensed by the UAE Ministry of Education in 1 ... Read More
The Emirates College for Management & Information Technology (ECMIT) is a 4 year institution of higher education which was originally established and licensed by the UAE Ministry of Education in 1998 as Emirates Center for Management and Information Technology.
Read less