Associate of Science in Business
Program Description
Associate of Science in Business
The Associate of Science in Business is a two-year 61 credit degree program that offers a sequence of required studies in General Education, Core Business functional areas and Elective courses. The curriculum is designed to equip students with thorough knowledge of business and management skills, required by today's employers.
The program has two major goals:
it prepares students for entry level careers in government organizations, business corporations, public and private sectors.
it prepares students for upper level baccalaureate studies in the UAE or abroad to complete the remaining two years of studies leading to a Bachelor 's degree.
Job Opportunities:
Graduates of this program may find career opportunities in a variety of fields such as Business Development, Human Resource Management , Marketing and Brand management , Project Management , Entrepreneurship , Accounting and Finance ,etc. Past graduate of this program are employed in government Sector such as Immigration, Police, Armed Forces, RTA, municipality and Airport , etc., and in Private Sector such as DUBAL, Emirates Airline, Banks , Al Futtaim group , Jumeirah Group , Emmar , Aldaar, etc.
ASB Curriculum Structure
General Educations Courses (25 credit Hours Required)
Business Electives Courses (6 credits hours required)
Core Business Courses (30 credits required)
Any Two courses from the following electives are required. The student must have the UAE General Secondary school Certificate (all streams are acceptable) an average score 60% or higher or equivalent qualifications from overseas attested by the MOE. In addition, a minimum TOEFL equivalent score of 500 PBT, 61 IBT or IELTS of band 5.0 or other equivalent standardized English language test approved by the MOE is required. For students who do not have a TOEFL score of 500, ECMIT has an intensive English language training program that prepares students for the examination. Tuition fees is AED 890 per credit , Service fees covering admission, student activities etc. are charged at AED 1750.0, Registration fees at AED 500 are charged per semester. Tuition fees for weekend students are charged at AED 950. TOEFL Test fee is AED 600. Visa Charges: In Country – AED 3750, International – AED 4500. For Details please contact the Admission Office at 04-2675016, or visit our website.
Why did I choose to study at ECMIT?
"I transferred to ECMIT in spring 2013 from another college because I wanted to study in a college with a more interactive environment. I love that ECMIT has excellent faculty, evening classes and very affordable fees."
FAHAD JUMA AL BASATA – finished third in Dubai Marathon, 2012 "We wanted to join a college where we could achieve our full potential. ECMIT was highly recommended for its small class size and friendly faculty. As we don't drive, we love that we can use the Metro or RTA bus to reach the college easily, even from Sharjah or other Emirates. But the most important factor for us was the excellent curriculum and the affordable fees."
ALI SAIFUDDIN & DIMA AL HAJ ALI "I joined ECMIT in spring 2013 after finishing my High school based on the advice of my school counselor and my friends already studying here. Since then, I have participated in various exhibitions as student representative that has increased my confidence and communication skills."
MOHAMAD AL MZYAK
Last updated Dec 2017
About the School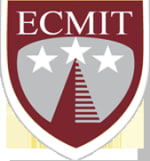 The Emirates College for Management & Information Technology (ECMIT) is a 4 year institution of higher education which was originally established and licensed by the UAE Ministry of Education in 1 ... Read More
The Emirates College for Management & Information Technology (ECMIT) is a 4 year institution of higher education which was originally established and licensed by the UAE Ministry of Education in 1998 as Emirates Center for Management and Information Technology.
Read less