Associate of Science in Aerospace Administration
Home ›
Associate of Science in Aerospace Administration
Program Description
Overview
Today's aerospace environment is incredibly complex. Like the most complex of machines, the global aerospace system is a series of interlocking gears and cogs that must be kept operating at the highest possible level of safety 24 hours a day, 7 days a week, 365 days a year, year after year. Every unexpected event causes a ripple that affects the system as a whole. People generally think about pilots when considering the aerospace environment, failing to account for the millions of men and women around the world who help keep the numerous aircraft in the sky. For every two pilots on an airline flight deck, there are about 100 people who support that particular flight operation–and the commercial airlines are only a part of a much larger aerospace environment! The Aerospace Administration degree program at Polk State College prepares students with this big-picture conceptual approach to the aerospace industry. Students receive a well-rounded education, not only in operational theory, but also in operational practice, using past, present, and potential-event case studies in the aerospace business field. Students enjoy both classroom and field work opportunities in this program, culminating in various administrative internship possibilities that can act to kick start an exciting, rewarding career in aerospace administration.
Structure
Like all commercial (and many private) aviation operators in today's aerospace environment, the Aerospace Program at Polk State College embraces the concept of a Safety Management System (SMS) as a quality management approach to controlling risk. Therefore, all curricula and aviation activities follow the guidance put forth in the Federal Aviation Administration Advisory Circular 120-92, "Introduction to Safety Management Systems for Air Operators," and the International Civil Aviation Organization (ICAO) Document 9859, "Safety Management Manual (SMM)." The policies and procedures in these documents provide the organizational framework to support a sound safety culture, both for pilot training and for professional pilot operations in the National Airspace System. Students train under the same operational requirements that apply to the companies they will one day work for. After graduation from this program, individuals are not just ready for new careers in aviation—they are aviation professionals.
Training Methodology
The Polk State College Aerospace Program is fundamentally different than the traditional aviation training model. Because the entire program is based on the SMS concept, the courses, assignments, projects, and field work all have immense relevance to the workplace environment. The program further enhances this relevance by combining the curricula for Aerospace Administration and Professional Pilot Science in the core aerospace coursework. By conducting courses in this manner, students are trained in both aspects of aviation (operations and administration) to understand the systemic nature of the aerospace industry. This approach also allows students to participate in group-learning opportunities that greatly expand the overall scope and background in aviation operations.
MANAGING THE NATIONAL AIRSPACE SYSTEM
The purpose of the Aerospace Administration Program is to prepare those seeking employment in the aviation, airline, and/or airport fields with the skills and experiences necessary to be successful. Graduates of this program may seek employment opportunities in the federal, state, and local government aviation fields, while others may find opportunities in airline fields including entry-level jobs in customer service, operations, and air cargo, as well as entry- to mid-level management positions. Graduates may also apply for positions in supporting aviation entities, such as suppliers and service providers for airlines and government aviation agencies.
The Associate of Science in Aerospace Administration degree program requires a total of 60 credits. The program consists of 18 credits of General Education courses and an aviation business core of 33 credits. Then, each student chooses up to nine credits of electives to specialize and further direct his or her study of aerospace administration. These elective credits can also be used for aerospace industry internships, which greatly expand the student's skills in the aerospace niche of the market.
Administration Careers
Airline Management
Airport Management
Airport Planner
Flight Operations
Flight Dispatch
Aerospace Marketing
Customer Support
Last updated Jan 2018
About the School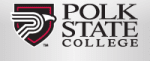 Polk State College, established in 1964, is a multi-campus institution serving over 20,000 students with Bachelor of Applied Science, Bachelor of Science, Associate in Arts and Associate in Science d ... Read More
Polk State College, established in 1964, is a multi-campus institution serving over 20,000 students with Bachelor of Applied Science, Bachelor of Science, Associate in Arts and Associate in Science degrees, as well as a wide range of certificate and workforce training options. The College also operates three charter high schools.
Read less