Advertising & Graphic Design Co-op Diploma
Home ›
Diploma ›
Advertising & Graphic Design Co-op Diploma
Program Description
Spark your creativity
The learning outcome of the Advertising and Graphic Design (AGD) program is to enable students to efficiently and creatively design logos, advertisements, images, digital content, and websites – all while having a visual communication strategy.
As a student, you will learn the concepts and techniques related to basic drawing, typography, color theories, and visual communications. Through studio projects that reflect today's technological trends, students get hands-on experience applying design theories and principles, graphic design software, advertising, documentation and photography, packaging, and commercial branding.
The focus will be on learning and developing specific skills and techniques, compiling an extensive portfolio, and gaining invaluable work-related experience.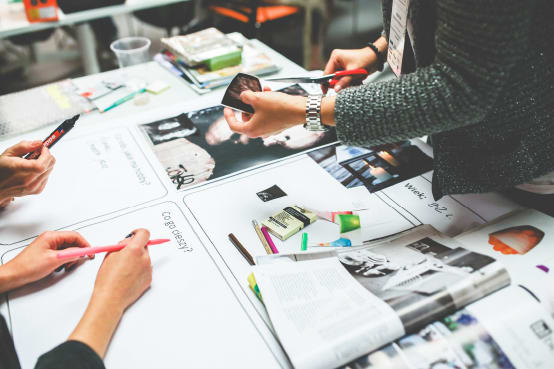 Learning Objectives
Acquire, and apply specialized graphic design and advertisement terminology and knowledge to relevant projects.
Develop design solutions using principles of design to create visual communications that meet the needs of the project.
Plan, implement and evaluate graphic design and advertisement projects to deliver quality work to clients according to schedule and budget.
Learn various software's required to design advertisements, magazine designs, and graphic designs.
Demonstrate the ability to use design thinking strategies in the design process.
Communicate concepts, design solutions, and arguments clearly and concisely through visual, verbal and written means.
Curriculum
AGD 100 | History and Principles of Graphic Design
Students will learn the basic elements and fundamental principles of Design. Elements of composition are introduced to students through exercises and projects presenting contrast, repetition, proximity, alignment, and color.
AGD 101 | Typography and Letter Design I
Students study letter-forms and understand fundamental typographic principles. Emphasis placed on the vocabulary of typographic form and its relationship to message/purpose.
AGD 102 | Fundamentals of Visual Arts
This course will introduce the skills of perception through drawing practice. An introduction to drawing tools by lessons focusing on rendering techniques, accuracy, space, shape, form and fundamental drawing systems.
AGD 103 | Fundamentals of Digital Photography
This course introduces the use of photography as an art medium. Lectures will cover how to use a professional camera. Students will learn about processing and printing in black and white, with an emphasis on perception and creative expression.
AGD 104 | Graphic Design Workshop I – Branding
This course will provide students with an introduction to the process of working with Graphic Design software. It will focus on the use of Adobe CS Suite: Illustrator to create illustrations, symbols, logos, and build-up a corporate identity for a company.
AGD 105 | Graphic Design Workshop II – Advertising
Students will learn about different types of print and web advertisements. The course will focus on the use of Adobe CS Suite: Photoshop to create visuals, layout and graphically designed advertisement.
AGD 106 | Web Design and Development I
The course emphasizes on a range of important factors in Web design, from identifying a site's target market to describing interactive features using HTML, CSS, and Dreamweaver.
AGD 107 | Typography and Letter Design II
The students will build on the fundamentals taught in Typography I. Students will work on complex projects involving hierarchy and long-running text to continue learning how to effectively manage, select, space and size type.
AGD 108 | Graphic Design Workshop III – Publication
This course focuses on the continuity of enhancing student's understanding of designing for publications (magazine, newspaper, and books) using Adobe InDesign. Students will learn the design fundamentals for publication including layout, grid, composition, elements, etc.
AGD 109 | User Interface Design
The class is primarily focused on visual interfaces on computer monitors and hand-held devices. Furthermore, students will learn about design methods, prototyping, and evaluation of user interfaces. They will explore the full process of researching, proposing and prototyping to design a complex wire-frame that considers the design aesthetics and functions.
AGD 110 | Introduction to Animation
Students will learn the principles of Animation and how to apply them. Students will explore the interfaces, controls and general techniques of creating animated projects.
AGD 111 | Package Design
Students will be able to explore the role of packaging as a visual communicator. Projects are designed to challenge the student's ingenuity and thinking skills.
AGD 112 | Web Design and Development II
Students will continue to apply the techniques learned in the Web Design and Development 1. They will create data-driven websites like a Shopping Cart, a Blogs, a Content Management System (etc.), using the PHP web programming language and the MySQL database server.
AGD 113 | New Media Advertising
Focusing on the history of advertising, communication design, and branding, the course will provide a foundation for students to survey the current state of the industry. Students will become familiar with its influence on culture, society, and the media. Students will be able to recognize different agencies and campaigns of the past and present.
AGD 114 | Advertising Production and Printing Process
Students will be introduced to the steps of creative problem-solving and strategy. They will examine the stages of Design through the development of original concepts, relevant market research, and then the execution and delivery of the advertisement product will also be covered.
AGD 115 | Media and Marketing Strategies
Students will create advertising strategies and campaigns. They will prepare client-level presentations. Students will be able to learn the presentation techniques needed to sell advertising ideas and build client relationships.
AGD 116 | Project Management
This training course provides an introduction to the principles of Project Management. It aims to develop a range of interpersonal skills and project management techniques required to manage today's graphic projects.
AGD 117 | Portfolio
This course will enable students to prepare a professional portfolio with creative samples targeted at their career choice. They will improve projects and develop new work to complement their skills.
Jobs/Careers
Graphic Designer
UX/UI Developer
Web Developer
Photoshop Artist
PHP Developer
Illustrator Artist
Last updated Feb 2019
Keystone scholarship
Discover the options our scholarship can give you
About the School

CIRA College aims to provide high-quality programs and services that will contribute to students' academic and career-driven success. CIRA College works in collaboration with local businesses and focu ... Read More
CIRA College aims to provide high-quality programs and services that will contribute to students' academic and career-driven success. CIRA College works in collaboration with local businesses and focuses on creating quality relationships between our communities. We aim to facilitate a creative working environment for our faculty and staff. As creative professionals ourselves, we stand behind developing a living and learning environment that fosters inspiration and individually.
Read less