ATHE Level 7 Extended Diploma in Strategic Management
Program Description
What is the Extended Strategic Management Diploma qualification?
Qualifications at RQF Level 7 reflects the competence, knowledge and practical skills that are academically comparable to Master's Degrees, Integrated Master's Degrees, Postgraduate Diplomas, Postgraduate Certificate in Education (PGCE) and Postgraduate Certificates.
​Qualification Overview
Accredited ATHE Level 7 Extended Diploma in Management provides a flexible route for learners who have already achieved management qualifications at a lower level as well as for learners who do not have business or management qualifications, but may have qualifications in other areas and/or prior management experience in the workplace.
​ATHE Level 7 Diploma Qualification details
Title: ATHE Level 7 Extended Diploma Strategic Management
Qualification no:603/0630/0
Size: 120 credits
GHL: 480 Guided Learning Hours
TQT: 1200 Total Qualification Hours
​Entry Requirements
Age: 19 +
A first degree in business, management or related subject
A level 6 qualification, for example, an ATHE Level 6 Diploma in Management
May also have relevant work experience
Learning Formats
Distance Learning
Distance learning requires that you study completely online through our learning portal. You will receive a personalized study plan to keep you on track and you will have access to an online tutor to ask questions. Monthly and quarterly installments are also available.
Price: £1150
Blended Learning
In this format, you can blend self-study with classroom/Skype-based tuition. The fees include 40 hours of 1-2-1 tutoring. (at least 4 hours per unit).
Price: from £4000
Academic Year
In this format, students can take the programme over one academic year. The duration you take up to 480 hours in the classroom at Notting Hill College premises. The one academic year is around 36 weeks of studies (20 hours per week).
Price: £7500
To pay by installment please email manchester@nottinghillcollege.co.uk
Strategic Management Diploma Structure and Units
5 Mandatory Units
Strategic Planning
Finance for Strategic Managers
Research for Strategic Development
Organisational Behaviour
Personal Development for Leadership and Strategic Management
Choose 4 Optional Units
International Business Environment
Developing Organisational Vision and Strategic Direction
International Finance
Strategic Marketing
Quantitative Methods
International Marketing
Corporate Communication Strategies
Strategic Human Resources Management
Managing Continuous Organisational Improvement
Topping up to an MBA from a Level 7 Diploma in Strategic Management typically takes 6 to 9 months.
Students wishing to progress further with higher education are able to complete their MBA qualification at a number of UK universities upon completion of the ATHE Level 7 Extended Diploma In Strategic Management. Gaining a business MBA certificate may only require 6 months of study, ensuring our course is a fast track to completing higher education in the UK.
If you are interested in this fast track to MBA degree, discuss the best course option for you by speaking to a friendly programme adviser on +44 161 637 5960.
Qualification Pathways
Qualification pathways are designed in the following areas which will enable learners to specialize in an area of their choice if they prefer. These pathways are:
General (unendorsed)
Finance
Marketing
Managing People
International
Top up to an MBA at a UK University
Upon the completion of ATHE Level 7Extended to various, you can apply for an MBA top-up programmes at universities in the UK.
Materials
To support our students, we have made presentations, e-books and assignment briefs available for reference on our learning portal. We have also provided access to a number of e-books via our electronic library. The programme handbook and assessment criteria are also provided to allow students to understand the detailed assessment criteria and the academic expectations of ATHE.
Books
If students are interested in ordering hard-copy books, we can provide them at an additional cost. Classroom-based students can have access to our suite of books and can print out relevant pages free of charge.
Flexible Study Plans
Thanks to our study plan, students can finish their course of studies in as short as 6 months or as long as 24 months. We do, however, encourage students to submit their tasks on regular basis.
Free resubmission
Course fees include a first resubmission for every task at no additional cost. This means that you have the opportunity to gain valuable feedback from the assessor and amend your work to the required standard.
Last updated Aug 2018
About the School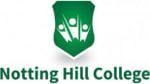 Notting Hill College is a dynamic British institution which specialises in further education as well as vocational training. The College was established in 2004 and ever since that date, it has been c ... Read More
Notting Hill College is a dynamic British institution which specialises in further education as well as vocational training. The College was established in 2004 and ever since that date, it has been constantly expanding in various tracks; curriculum and programme design, academic partnership and network construction. This diligent work has made us a leading provider presenting diversified learning services.
Read less