AP Degree in IT Network and Electronics Technology
Home ›
AP Degree in IT Network and Electronics Technology
Program Description
AP degree - 2 years - 120 ECTS
Do you have a passion for working with computers, servers and/or network technology and electronics, and would you like to stay updated with developments and the most recent technology? If so, the IT Network Technology programme is ideal for you. The AP Degree programme in IT Network Technology is the first two years of a Bachelor's programme.
IT Network Technology is a 2 year full-time AP degree programme qualifying for key functions within a number of trades and industries. You will be qualified for a professional position as manager of, or participant in, projects related to product development, planning and operation of systems in the fields of network and electronics technology in the private as well as the public sector.
Visit the website: www.baaa.dk/ittech
Network Technology
The programme
During the 1st semester, your work will focus on system knowledge and training in work methods.
During the 2nd and 3rd semesters, you will work with academic subjects, and you will get the possibility to add your individual touch to the programme be choosing specialisation subjects.
The 4th semester consists of an internship in a company and a main project.
Admission requirements
In order to be admitted to the programme, you must have especially good and documented qualifications in:
English
All international applicants must hold a certificate showing adequate qualifications in English at upper level comparable to English level B of a Danish upper secondary examination.
In addition, they must pass an internationally approved test. We accept these tests with the following minimum scores:
IELTS: 6.0
TOEFL Internet based: 80
TOEFL Paper based: 550
Cambridge test: CAE A, B or C
Oxford Placement test: 140 (min. 70 in each part)
Oxford Online Placement test: B2 (min. 70 in each part)(offered at Business Academy Aarhus)
For non-EU applicants we only accept IELTS and TOEFL.
Native English speakers and applicants with Nordic entrance exams (including applicants with a qualifying examination from USA, Canada, Australia, New Zealand, Great Britain, Scotland, or Ireland) are exempt from an English test. Please note that applicants with a qualifying examination from all other countries (including African and Asian countries, where the language of instruction is English) must submit a test.
If you have a Danish-language entrance exam (or another nordic entrance exam), you must have at least English B or equivalent.
Mathematics
Mathematics at the Danish C-level. This means that international applicants must have had mathematics for at least 125 hours (classes of less than 60 minutes, must be converted into whole hours) during the last three years of their upper-secondary education.
Last updated Jul 2018
About the School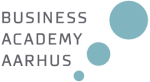 Business Academy Aarhus is a School of Applied Sciences
Business Academy Aarhus is a School of Applied Sciences
Read less